Hard Chrome Plating, HVOF Spray & Welding
Hard Chrome Plating
Chrome Plating is a vital p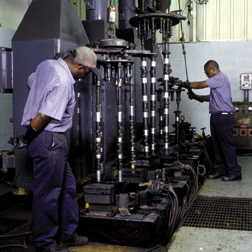 art of Hillcrest Camshaft's operations. Original dimensions are restored every day with our 5 in-house chrome plating tanks. We have the ability to plate and machine camshafts up to 14 feet in length. Chrome plating actually adds hardness, resists abrasions and reduces friction, therefore, increasing engine RPMs and horsepower. The chrome plating process means longer life for journals and bearing surfaces.
 HVOF Spray and Welding
Hillcrest Camshaft has multiple repair processes that are not advertised.  One of those is our in-house hard chrome plating for all types of bearing surfaces and seal area repairs. We also repair Hydraulic Cylinders for all types of heavy equipment and industrial applications.
We also use a HVOF Thermal Spray Repair process for worn surfaces that are beyond repair by using a hard chrome build-up.  Our max building for chrome is approximately .030", beyond that we use HVOF Spray Repair.
For surfaces such as Camshaft lobes that are very hard, approximately 58Rc and h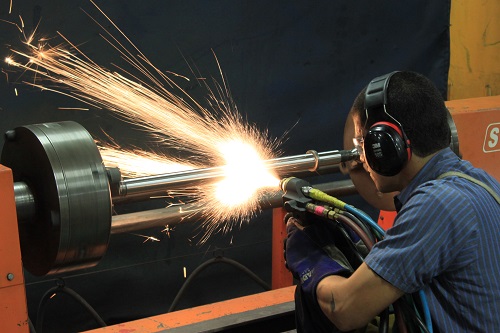 igher, we use a special Submerge Arc weld repair. This repair is very good for high impact surfaces such as, camshaft rollers to lobe contact.  Our camshaft lobe repair has been tested and proved for many years with a very low warranty ratio, less than .05%.