History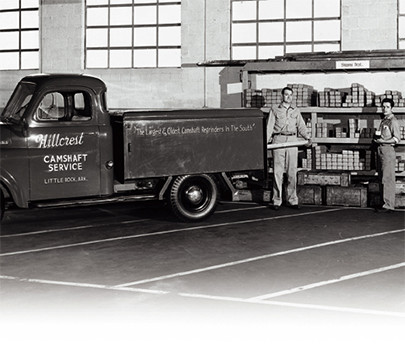 Right: Manual Landis Cylindrical Grinder Operator Grinding Bearing Journals on 8V-71 Detroit Diesel Camshaft in 1956.
Hillcrest Camshaft Service began in 1955 in the historic Hillcrest neighborhood of Little Rock, Arkansas in a 4200 sq. ft. building with five employees.  Our equipment list included a Storm Vulcan and Landis cam grinder with a couple of polishing lathes.  The primary products in those early years were automotive and light truck camshafts.  
In the late 1970's Hillcrest moved to a new location with 11 employees and over 12,000 square feet.  It was in this location that the company started expanding their services to industrial camshafts and gained customers such as Detroit Diesel, Caterpillar Inc., Marine Systems, NREC, Cummins Inc., and Union Pacific Railroad.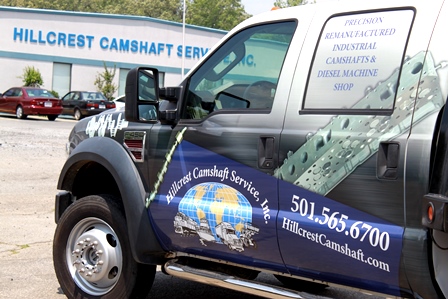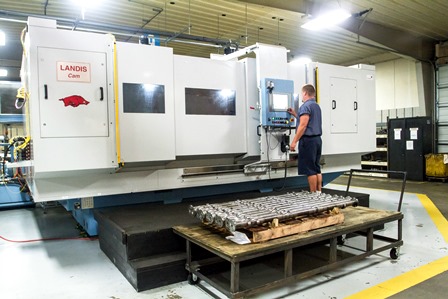 As business continued to grow, so did the need for a larger facility.  The company moved to its current location in 1996 and has expanded twice and is now 50,000+ square foot facility which also houses a 7000 sq. ft Diesel Machine Shop.  Since 1996, our services have expanded to include new locomotive camshafts, crankshaft remanufacturing, new and remanufactured diesel machine parts and a full service Diesel Machine Shop.  Our equipment list has also expanded to handle these large customer's needs.  Whether it is one camshaft or a hundred, we will process your order in a timely manner without jeopardizing quality.